Kishangarh Airport To Pushkar Taxi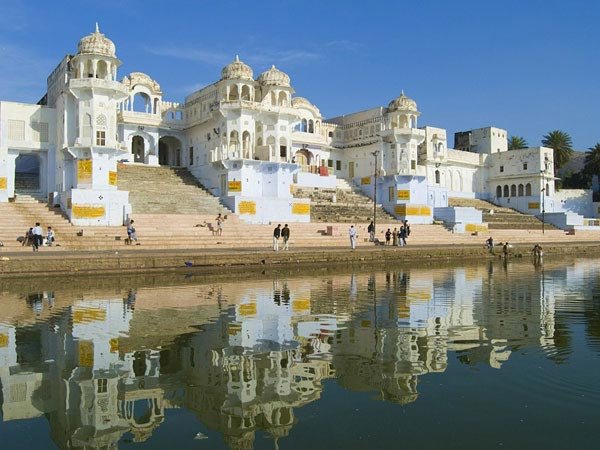 One Of The Most Visited Tourist Destination In Rajasthan Is Pushkar. The City Is Popular For Many Reasons.  Surronded By Aravali Mountain Range This Small Town Is a Oasis In Thar Desert Range. The Town Is Located Around a Beautiful Lake Named Pushkar Lake. It Is Also Believed That The Lake Is Creation Of Lord Brahma and The Only Brahma Temple In India Is In Pushkar Town. Pushkar Is Well Connected By All Means Of Transport. The Nearest Bus and Train Station Is  Ajmer Junction Which Is 15 Kms Away From City Via Snake Mountain. Distance Between Newly Opened Kishangarh Airport and Pushkar Is Approx 55 Kms. Kishangarh Airport To Pushkar Taxi Service Is Easiest and Convinient Way Of Travel Between The Two. It Takes Approx 45 Minutes To 1Hour To Reach From Airport To The Pushkar City. You Will Have Exotic Aravali Mountain Range Overviews On The Way. You Can Also Experice To Travel Through Snake Mountain Via Ajmer To Pushkar.
Pushkar Is believed To Be a Sacre Hindu Town. It Is Said In Ancient Books That Lord Brahma has Created This Town and Hence There Is The Only Temple Of Him In This City In the Whole World. Pushkar Means Flower In a Hand Of Brahma. There are Total 500 Small and Big Temple's In Town.  It Is Well Connected By Train and Road Transport. Now It Is Also Easily Reachable Via Air Services By Flight. Kishangarh Airport To Pushkar Taxi Service Is Available Round The Clock and Is Very Convinient and Time Saving. Pushkar Is one Of The Fastest Growing Destination Wedding Venue as Well As Other Events. There are Lot Of Good Hotel Brands Already In Projects. The Natural Extacy and Greenary Of Pushkar Is Another Advantage Of This Town. A Aprt From temple Town It Is Also Popular For Thar Desert Range. You Can Enjoy Camel Safari In Pushkar For Sun Set Or Sun Rise.
There is The Largest Cattle Fair Of India In Month Of October Or November According To Lunar Calender. This Is Worldwide Famous As Pushkar Fair. There are More Than Half a Million Pilligrams and Over Fifty thousand Cattle At That Time. It Also Has A Religious Myth. The Fair Lasts For 5Days. Hindus Come To The Fair Take a Holy Dip at The Lake and Visit To Brahma Temple and Pushkar Fair. It Is Also Good Oppurtunity For Cattle Sellers and Buyers. There are Cultural Events All These Days and Camel ride, Zypsy dance and Other Rural and Cultural Proggrrames Throughout The Days. Camel Safari In Pushkar , Hot Air Baloon and Horse Riding Along With Ferris Wheel are Major Attractions Of The Event For All The Evenings. There is Concerts , Folk Music and Other Rural Games and Competion For Visitors and Forigners Specially.
Ajmer Pushkar Taxi Rates
| | | | | | | |
| --- | --- | --- | --- | --- | --- | --- |
| Vechile Type | One way Rate | Same Day Return | Inclusions | Hour Limit | Extra KMS | Extra Hours |
| Indigo | 1500 | 2500 | Ac Taxi + Tolls | 10Hrs | 10 | 150 |
| Dzire / Etios | 1650 | 2800 | Ac Taxi + Tolls | 10Hrs | 10 | 150 |
| Tavera | 2000 | 3200 | Ac Taxi + Tolls | 10Hrs | 11 | 250 |
| Innova | 2200 | 3500 | Ac Taxi + Tolls | 10Hrs | 14 | 250 |
| Tempo 12+1 | 3500 | 5500 | Ac Taxi + Tolls | 10Hrs | 18 | 350 |
| Tempo 15+1 | 4500 | 6000 | Ac Taxi + Tolls | 10Hrs | 20 | 500 |
| Mini Bus 21Seater | 5500 | 7500 | Ac Taxi + Tolls | 10Hrs | 25 | 500 |