Kishangarh Airport To Butati Dham Taxi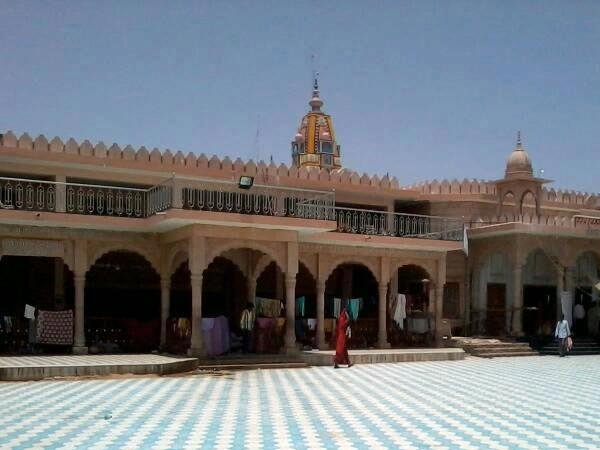 Kishangarh Airport Has Been Inaugrated On 11th October 2017 and Open To Public For Operations. This Is One Of The Airport Under The Udaan Scheme To Get Better Air Connectivity Between The Cities Indise India.  Kishangarh Is World Famous Marble Industry as Well As Junction Point For Connecting Jaipur, Jodhpur and Ajmer Region. There are Many Religios Importance Place's Nearby This City. Ajmer , Pushkar , Merta are Few Of Them. A Aprt From This There is One Popular Place Named Butati Dham. It Is Popular For Parylysis Traetment Since Many Many Decade's. Million Of People Have Cure Well After Spending 1 To 2 Weeks At This Temple. It Believed That 1Week Of Parikrama at The temple Morning and Evening Aarti Cures The Parylysis Completely.  It Is Approx One Humnder Kilometers From Ajmer Station and Around The same From Nearest Newly Built Airport. Kishangarh Airport To Butati Dham Taxi Services Costs Approx  Two Thousand Rupess and Takes 2 Hours Drive.
Butati Dham Temple Of Chaturdas Ji Maharaj Is 500Years Old. This Saint Was Popular To Treat Patients Of Parylysis With His Charms. He Was Very Powerful Saint and He Served All His Life To The Patients. After Him Up to Today People Visit The Temple and Pray At His Graveyard and Take Aarti For 7 Days.  Every year millions Of People Come From All Over The Country To The Temple. Butati Lies On Highway Between Ajmer and Connected Through Rail and Bus Highways Properly. However Kishangarh Airport Is The Nearest Newly Built Air Connectivity.  Kishangarh Airport To Butati Dham Taxi  Is Easiest Way To Travel With Patients and Takes Approx 2 Hours. There is  Facility Of Staying at The Temple For Free In The Rooms Built Nearby Dharamshala. However There are Also Some Small Home Stays and Guest Houses For People Wish To Stay Private. There are All Facilites Availble Nearby The Temple. Grocery Shops , Clothes , Surgicals and Other Items are Availble In Local Market Near Temple.
Butati Is Establishes In 1600AD By Pandit Bura Lal Sharma ( Dayma )  and Named After Him. Afterwards In Rajputana It Was Conquered By Bhom Singh Of Nagaur. The Temple Lies In The West Of The Small Town. There are Few More Small and Big Temple In town Worth a Visit. This Small Town Is Well Known Country Wide For Treatments. There Is A Temple Trust Which Take Care Of All Activities and Facilities For The Patients Visitng. Staying Food and Other Equipments are Also Available At The Temple For Free. However Most People Who Benefits Here Do Donate Money , and Other Equipments For Trust and Other People. There are Cold Water Machine's. Electric Items and Other Daily Need Items For The Visitors and Other Patients.
Kishangarh Airport To Butati Dham Taxi Rates
| | | | | | | |
| --- | --- | --- | --- | --- | --- | --- |
| Vechile Type | One way Rate | Same Day Return | Inclusions | Hour Limit | Extra KMS | Extra Hours |
| Indigo | 2400 | 3200 | Ac Taxi + Tolls | 10Hrs | 10 | 150 |
| Dzire / Etios | 2700 | 3500 | Ac Taxi + Tolls | 10Hrs | 10 | 150 |
| Tavera | 3300 | 4000 | Ac Taxi + Tolls | 10Hrs | 11 | 250 |
| Innova | 3500 | 4500 | Ac Taxi + Tolls | 10Hrs | 14 | 250 |
| Tempo 12+1 | 4500 | 5500 | Ac Taxi + Tolls | 10Hrs | 18 | 350 |
| Tempo 15+1 | 5500 | 6000 | Ac Taxi + Tolls | 10Hrs | 20 | 500 |
| Mini Bus 21Seater | 6500 | 8000 | Ac Taxi + Tolls | 10Hrs | 20 | 500 |