Bus Hire for wedding in Kishangarh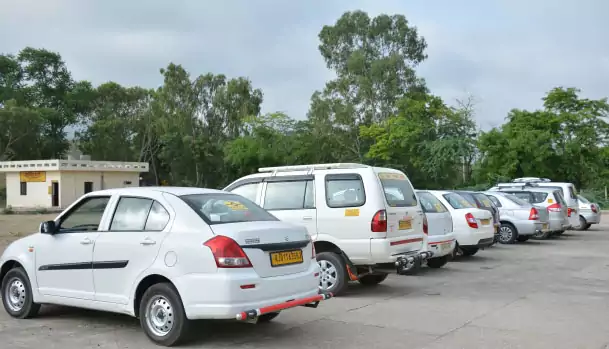 Bus Hire in Kishangarh - Kishangarh is a popular marble city in India that is now featuring a domestic airport connecting it with other destinations in the country. It lies around 90 kms away from the capital city of Rajasthan and approximately 18 kms from Ajmer. Kishangarh is very famous for its ancient painting known as Bani-Thani which is carved on one of the postal stamps by the Indian government adding richness and royalty to the city. The largest marble and granite industry in the country has more than 1000 factories as well as 500 outlets in the area. Many marble structures across the country are constructed using the marble of Kishangarh.

Also, there are many other tourist attractions in Kishangarh, including the Central University, Agriculture, dumping yard, forts, temples, and others. During the wedding season, many weddings take place in the city. Therefore, we offer the best Bus Hire for Wedding in Kishangarh at affordable rates. We understand that a wedding day requires a lot of important preparations to make. So, we offer a well-maintained bus rental in Kishangarh. If you are a group of more than 30 to 50 family members, and all have to go together. Then it is next to impossible to travel in a single small vehicle. A wedding occurs once in a lifetime and people are bound to have their expectations accordingly.

The concept of a Bus on rent for Marriage in Kishangarh was recently introduced to let the clients feel comfortable while they are occupied with other arrangements. Despite then travelling from one place to another all-family members and relatives can't fit in a well-maintained vehicle. Considering this a severe concern, Kishangarh Airport Taxi took the initiative to provide a convenient transportation option to travel to the marriage garden.

Bus Rental for Marriage
Hire a bus for marriage in Kishangarh to make group transportation easy and comfortable. There are different wedding functions for which many guests come to the wedding event at multiple wedding ceremonies. We have buses starting from 20 seater to 50 seater Bus rentals for group travellers to make easy transportation across the marble city. We have specialized rental services for airport pickup and drop services. We also provide the option to hire a bus for railway station transfer in Kishangarh.

Rent a bus for the Wedding in Kishangarh

- Bus for family gatherings and events
- Minibus rental for wedding shopping
- Pre-wedding shoots in the Dumping yard at Kishangarh
- Party Bus for Bachelor Party
- Rent a bus for all occasions and events

Why should you hire bus for weddings in Kishangarh?

- Trained Drivers
- Neat and Clean Buses
- 24*7 Support
- Value for Money
- Comfort and Safety

We are a professional bus hire service provider in Kishangarh, understanding this, we offer the best bus rental for clients to meet their travel needs. Keeping your needs in priority, you will find different sizes and shapes for our wedding bus hire in Kishangarh.

Luxury Wedding Bus Rental rates in Kishangarh comes with a comfortable and hassle-free for safe travel with group. We assure you of timely pickup and drop service in Kishangarh. We have different seating options available for different needs as per guests' and family members' requirements.

You all can share your experience so far - play musical games on the well-maintained bus for wedding purposes. Along with you all close family members travelling together on the same bus and this is going to be an extremely fun and joyful journey.

FAQ's

What are some of the best luxury Bus rental options available in Kishangarh?
We provide you with the best-in-class bus rentals for weddings in Kishangarh, including 30 seater bus to 50 seater and more. A well-dressed chauffeur will accompany you on your wedding day for easy transfers in the city.

How can I book a Wedding Bus Rental in Kishangarh?
To book a bus rental in Kishangarh for a Wedding, you can simply give us a call at - +91-954-986-3735. Our experts will be available for you 24*7 to solve your queries.

Best Bus Hire in Kishangarh. KAT Provide you No 1 Bus Hire in Kishangarh with Taxi service in Kishangarh. Call now and Book your Cab - 9549863735
Madanganj Kishangarh Now Popular As Kishangarh City Is Located On NH 8 Between Jaipur and Ajmer City. It Is Also a JConnecting Junction To Many Regions Of Rajasthan. Jodhpur , Ajmer , Udaipur and Nagaur Diversions Falls From This City. This Largest Marble Industry Of India. Granite , Marble Products , Statue's  Cutting , Polishing and Marble Items Paintings are Major Source Of Income In City. Kishangarh City Is Well Connected With Rail , Bus and Now Onwards 2018 Air Connectivity. It Is One Of The Fastest Developing Cities After Government Investments In Smart City Ajmer Project. However For Local Transport  Like Wedding , School Groups , Family Holidays , Outings  and Other Corporate and Industrial Needs There is Always Demand Of Bus Hire In Kishangarh. Being Population Of Over 4 to 5 Lakhs The City Is A Important  Sub Urban Area Of Ajmer District.
There are More Then One Thousand Mining Industries and Over Twenty Five Hundred Outlets Selling These Products. Every Day More Then Hundred Thousand People Come To Work In This City From Nearby Villages and Towns By Buses and Other Private Vechile. A Aprt From Transportation Of Marble Raw and Ready There Is Always Need Of Vechile's In City Of Local Needs. Bus Hire In Kishangarh Is Much In Demand Due To Many Reasons. Every Year Lot's Of Wedding's and Family Tour Trips Use this Service As Well As Corporate and Industrial People Use Bus Hire Services In kishangarh For Staff and Visit For Officials and Enterprenurs To Their Site.  However   There are Lot Of Transport Company Providing Commercial Vechile For Marble and Granite Industries. Transportation Of Marble and Related Products  Is Another High Revenue Buisness In The City. Starting From Mines With Raw Stone Upto Cutting , Polishing , and Sending To Different Parts Of India Transportation Is The Main Key Part Of Marble Industry In Kishangarh City.
We are One Of The Oldest Travel Agents In City  Who Provide All Type Of Luxary Bus On Hire In Kishangarh at Budget Friendly Prices and Professional Services. Our Coaches are Brand New and Have All Mordern Facilities Such As Mobile Charging Point, Powerful Ac and Music System With Comfortable Seats With White Clean Seat Covers. Our Neat and Clean Buses With Friendly Driver and Staff are Our Best Quality. Most Of Our Small and Big Buses are Brand New With Al Saftey and GPS Enabled. Our Professional and Friendly Office Staff Will Help You To Choose Best Travel Plan For Your Family Holidays Or  Group Tour To Your Choice Of Destination. We Provide Multiple Drivers Along With Helper In The Buses For Your Suport. Our Buses Have Ample Luggage Space In The Back and Top For Your Needs. A Part From This Medical Kit For Emergecy With All Medicine Is Available With The Staff All The time.